Types of Fishing Rods and Reels
During history of fishing, different types of rods and reels are invented for different uses. Today, many manufacturers produce them for everyone, from weekend hobbyists to professional sportsmen, from small game to marlins and sharks. Yours is to pick the fish you want to catch and choose the equipment accordingly.
Fishing Rod Types
Here are some fishing rod types:
Fly rods are used to cast an artificial fly. They are thin and flexible and were made of split bamboo. Today they are made of fiberglass or of carbon/graphite, or graphite/boron composites.
Spin and bait casting rods have a spin casting reel which has a trigger and allows better casting of the bait.
Spinning rods are rods with spinning reel that hangs beneath the rod. They are made of graphite or fiberglass with a cork or PVC foam handle and are used for fishing bass, trout, pike and walleye.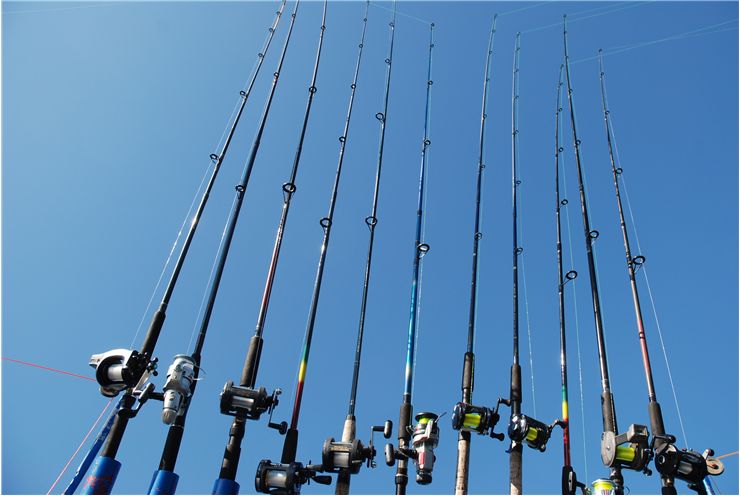 Ice rods are short spinning rod (from 61 to 91 cm in length). They are used to fish through ice holes on lakes and ponds.
Sea rods are long and thick rods (some to 4 meters in length) for fishing large sea fish.
Telescopic rods are rods that are designed so they can collapse and take very little space or open to a long rod. They are made from similar materials as other rods (graphite, carbon, and fiberglass) but can be much easily damaged because of their construction
Tenkara rods are ultra-light carbon rods, fly rods and telescopic rods all in one. They are used for tenkara fishing in Japan.
Surf rods are sea fishing rods for surf casting (catching fish while standing on the shoreline). They have 3 to 4 meters in length and are sturdy enough to carry heavy lures or bait which then lay at the bottom and are not carried by rough water.
Fishing Reels Uses and Designs
Fishing reels also have different designs and uses:
Spinning (fixed spool) reel is made for use with artificial flies or other lures which are too light and cannot be efficiently cast with other reels. It is mounted below the rod and cast with dominant hand.
Centrepin reel is designed to run freely on its axle which allows casting of lines to great distances. It has a bracket which allows it to be rotated by 90° for casting, and back to original position for retrieving.
Fly reels are one of the simplest reels. To use it, fisherman strips line off the reel with one hand, and casts the rod with the other. It is used for fly fishing.
Baitcasting reel is designed to handle heavy line, lures and fish and are made of aluminum, stainless steel, or synthetic composite materials.
Spincast reel (or a closed face reel) is used by casual anglers which fish for small to medium sized fish. It has a button that releases line for casting and is enclosed from the top with one hole for line.
Open face spinning reel comes in different sizes, depending on the desired catch. It can be used for vary small fish or for big-game fish.